Aum Sri Sairam
Sri Sathya Sai Seva Organisations
(Assam, Meghalaya & Arunachal Pradesh) 
Flood Relief Camp: Gupachuk, Dikragmukh, Assam
Loving Sai Ram, Sri Sathya Sai Seva Samithi Naharlagun, Lakhimpur, Bihpuria, Narayanpur have jointly organised a flood relief camp on 28 July 2019 at Gupalchuk, Dikrangmukh for covering 200 families under Narayanpur circle Lakhimpur district.
Prepared ITEMS:
1) Rice- 5kg
2) Mosur Dal- 1kg
3) Mug Dal- 500gms
4) Salt- 1kg
5) M. Oil- 200ml
6) Biscuits- 1 pk(10/-)
7) Potato -1kg
8) Tea- 1pk (10/-)
9) Sugar -350gms
they served cooked food for lunch and biscuits etc to children
The Sevadal members travelled by crossing the river by boat and then they took a tractor to reach flood victims.
Contact Person: Sri Satyen Sharma, State President, Sri Sathya Sai Seva Organisation, Assam, Meghalaya & Arunachal Pradesh, Email ID: sp.as@ssssoindia.org & satyensarma@yahoo.co.in
Feedback & Helpline: admin@ssssoindia.org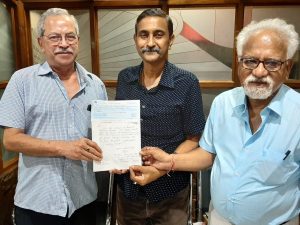 Kind Hearted Doctors: Sairam! A group of kind-hearted Doctors (1969 batch) of Guwahati Medical College have come forward to help the flood victims and made a donation of more than one lakh and presented a cheque to the State President Sri Satyen Sharam- May beloved Bhagawan Sri Sathya Sai Baba bless the doctors and their families forever.