Loving Sairam.
Helping Dabbawalas of Mumbai City
04 Sept 2020: The blue coloured office goers of Mumbai are used to receiving their lunch boxes on their desk at the stroke of the lunch hour. The carriers of these lunch boxes known as the legendary Dabbawalas of Mumbai are the messiahs who reach these lunch boxes across the geography of Mumbai. They have become Management case studies in many premier institutions like IITs and even beaten Six sigma quality parameters.
Due to closure of offices in Mumbai on account of the Pandemic, they have fallen on hard times with no income. Ironically a few thousand "Dabbawalas" Who feed millions are going hungry.
Initially devotees from Mumbai Metro Region digitally distributed about 800 Amrutha Kalash as the pandemic started way back in March, anticipating the pandemic to end soon. However as the pandemic continued to extend, the hunger pangs also intensified. On request, our organisation members from MMR was in touch with their chief Shri Subhash Talekar and after due diligence offered to help 500 Dabbawala families with Amrit Kalash to last them for 1 month.
The President Shri Subhas Talekar was very happy to be invited to Dharmakshetra to receive the Amrit Kalash from the hands of our All India President, Shri Nimish Pandya in a small handing over function organized on 2nd September 2020 in Mumbai.
Lack of work forced the Dabbawalas to return home to their villages near Pune. The Mumbai Metro Region of SSSSO with the assistance of Samithis from Pune District will ensure distribution to the 500 families suggested by the President of the association.
The All India President of Sri Sathya Sai Seva Organisation Sri Nimish Pandya assured to the Dabbawalas association, our organization will ensure that all their brethren Dabbawalas also would be taken care of to the extent possible thru our local Sai Samithis. Details of distribution to the entire clan of dabbawallas are being worked out. 
-Team Sri Sathya Sai Seva Organisation, Mumbai Metro
Amruth Kalash distribution to distressed women
On a request received from the distressed families of Sex Workers in Mumbai, with the blessings of Bhagwan , the Mumbai Metropolitan Region, distributed Amruth Kalash to sustain for 1 month to 400 families with the assistance of AAWC, an organisation involved in the relief operations of the these distressed women , and their children.
A 25 kg Amruth Kalash kit bag comprising of the following were distrivbuted.
Rice 6kgs
Wheat Flour 10kgs
Dal 2kgs
Sugar 2kgs
Salt 2kgs
Oil 2litres
The kit bags with Swamis photo and vibhuti were distributed on 20th August 2020
Jai Sairam
Amruth Kalash to the Dabbawalas of Mumbai
In Mumbai the working population get their lunch boxes delivered in their offices by Lunch time. The Lunch box carriers popularly called as "Dabawallas" are an integral part of the Mumbai Metropolitan societies working life. The Covid 19 has severely affected their livelihood and these services came to a grinding halt after 44 years of uninterrupted service.

The irony is that the very same people who were once acclaimed by Prince Charles for their fantastic coordination of reaching the lunch boxes across the city of Mumbai with very unique coding to identify the lunch boxes and fed the hunger of the vast population had to go hungry .

By the Divine grace of Bhagwan the Mumbai Metropolitan region distributed Amrut Kalash to about 800 families of the Dabawallas in Mumbai. There are about 5000 dabawallas in the city of Mumbai.
Ashadi Celebrations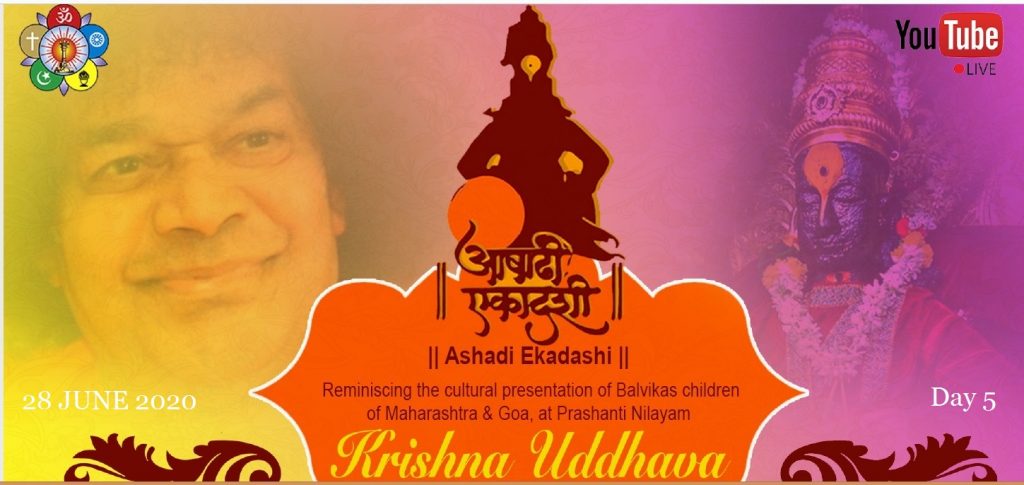 AUM SRI SAI RAM
Bhaja Govindam Satsang- Delusion to Reality-11-14 June 2020
Bhaja Govindam also known as Moha Mudgara (Destroyer of illusion) is a popular 8th century Hindu devotional composition in Sanskrit composed by Adi Shankara. This work of Adi Shankara underscores the view that devotion (Bhakti) to God, Govinda, is a vastly important part of general spirituality, as emphasised by Bhakti Yoga.
This work is generally considered a summary of Adi Shankara's Advaita Vedanta philosophy.
In this prayer, Adi Shankaracharya emphasizes the importance of devotion for God as a means to spiritual development and to liberation from the cycle of birth and death. The prayer leaves one in no doubt that the renunciation of our egotistical differences and surrender to God makes for salvation.
Team Sri Sathya Sai Anugraham thanks each one you for being a lovely audience to this amazing journey by Shri. Subramanian Chidambaram.
YouTube Links are provided below for all the four days
Day 1: https://www.youtube.com/watch?v=LNWvlK19wus
Day 2: https://youtu.be/aWJW64RBs7s
Day 3: https://youtu.be/QrFGLik9Q7U
Day 4: https://youtu.be/EmPI5ENDHAY
Yours in His Service
–Team-Sri Sathya Sai Anugraham-Mumbai Metropolitan Region Youth
08 June 2020 -COVID-19 Seva – An update from Dharmakshetra
Narayan Seva Kitchen opened on 12th May
Daily Narayan Seva – 500 meal sets being served daily
Sai Food Kits – 12,000 Kits distributed in Phase 1
Distributed 144 tons of food grains through this period
With the City still grappling with the lockdown, our Kitchen will be open at least till 5th July – Gurupoornima Day
The Aid program from Dharmakshetra is now nearing two months and with HIS grace this will be soon three months in the coming week
-Report by Deepak Bharwani
Balvikas Buds 2020 -24 May 2020
The inaugural session of the Summer Workshop for Balvikas kids was held on Sunday 24th May morning from 10.30 am to 12.45 pm on Zoom channel
A very absorbing session was held by Sister Smt Kamla Pandya (National Mahila Coordinator – SSSSO) on the topic – Management of Thought, Breath and Time through PowerPoint presentation.
Respected All India President SSSSO Sri Nimish Pandya thereafter spoke on Human Excellence and narrated many interesting short stories to a huge number of Bal Vikas Children (number over 460) on Zoom channel.
Jai Sai Ram 🙏
-Report by Deepak Bharwani
25th Anniversary of Sai Prem Centre, Navi Mumbai.
On 13th May 2020, the devotees of Sai Prem celebrated the 25th Silver Jubilee of Sai Prem online on Zoom Channel. The program ended with a brief talk by All India President Sri Nimish Pandya
AIP Message on the Anniversary of Sai Prem
Loving Sairam! Wishing all on the Anniversary of Sai Prem the abode of Swami at Navi Mumbai Sai Prem building
Sai Prem Shrine

Swami message at Sai Prem was Expansion of Love
Uthishtatha, Jagratha, Praptatha. Wake up from this darkness of ignorance. Narrow mindedness is ignorance. Develop expansion of love, not contraction of love. We have narrow-minded love today. Such a broad-minded love is on the decline today.

Embodiments of Love Body is like a water bubble. Mind is a mad monkey. Do not follow the mind. Do not follow the body. Follow the Atmic principle. That is Follow the Master, Face the Devil, Fight to the End and Finish the Game. Follow the heart. Follow the conscience. Conscience will not change. You set high ideals for humanity in every matter. Today's youth argue against true values and put forth many wrong arguments in matters relating to God. They do not recognize the truth considering such wrong arguments as modern fashion. That is not good.
Baba (Divine Discourse at Sai Prem, Navi Mumbai on 13th May 1995)
Dharmakshetra Day – 12 May
Celebrating 53 years of Dharmakshetra- Swami's Gift to Mumbai
12 May 2020
– On 25th March 1967, Swami registers Sri Sathya Sai Trust Maharashtra.
– 3rd November 1967, Foundation Stone for Dharmakshetra laid down by Swami
– 12th May 1968, Inauguration of Dharmakshetra by Bhagawan
A summary of the recent Covidl19 Aid program submitted at his Lotus Feet on this auspicious day…
Help to Poor People during COVID-19 Crisis
Aum Sri Sai Ram
03 May 2020
Sairam! A small video clip has been made: https://youtu.be/nZrFm-KQgyk
30 April 2020
-Report by Shri Santhanam K B
26 April 2020
Aradhana Diwas – 24-04-2020
As an expression of our gratitude on Bhagwan's Aradhana Day, The team continued with our efforts in response to the Covid19 crisis through the Sai Food Kits initiative.
3,500 families have now been served
In total, 5,000 families are intended to be covered by the month-end
# Areas we have reached – Andheri, Bandra, Chembur, Colaba, Goregaon, Kandiviali, Mahim, Mankurdh, Malad, Vashi, Wadala, Worli & Sion- Dharavi
It is aimed to reach out to families at the bottom of the economic pyramid.
Demand has been overwhelming and the team is grateful to Swami for having given us the opportunity. This is expected to expand the program to 6,000 families
Few pictures from Dharmakshetra
-Report by Shri Santhanam K B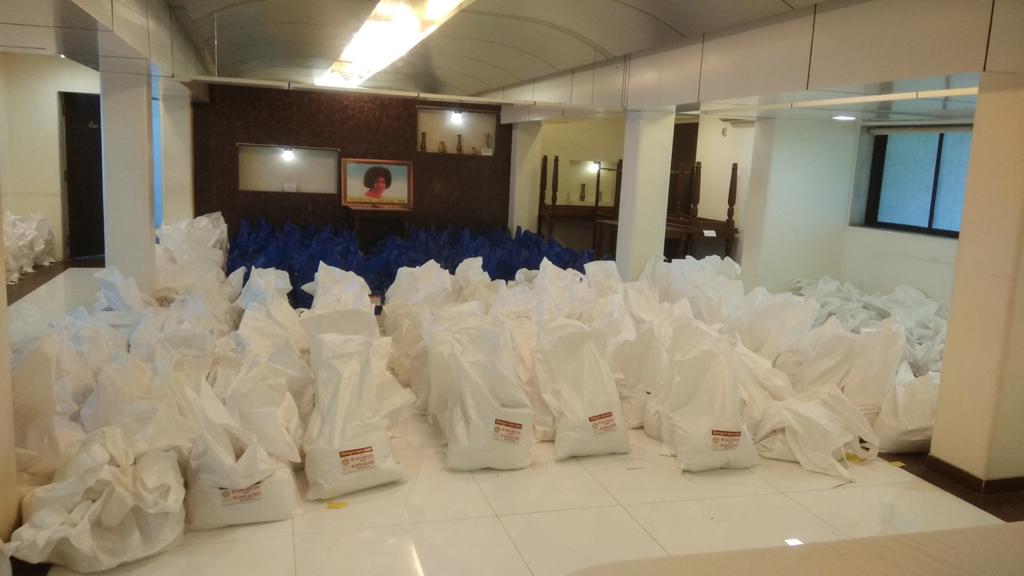 Plan of Amrutha Kalash in the months of April & May 2020
With the grace of our beloved Bhagawan, we are delighted to share with you details on an initiative managed by Sri Sathya Sai Trust Maharashtra & Sri Sathya Sai Seva Organisation in the city of Mumbai in response to the current COVD-19 crisis
PHASE 1, during the Aradhana month (10th to 30th April) – Distribution of Sai Food Kits targeted at 5,000 deserving families and Institutions supporting the economically weaker sections consisting of 60 tonnes of food material.
2000 Amrutha Kalash will be distributed in the month of April 2020
Each kit consists of 5 Kgs of Wheat Flour, 3 Kgs of Rice, 1 kg of Dal, 1 Kg Sugar, 1 Kg Salt & 1 Ltr Oil
PHASE 2, in the month of May coinciding with the anniversary of Dharmakshetra – Narayana Seva every day through the month of May covering approx. 500 individuals daily.
3000 Amrutha Kalash will be distributed in the month of May 2020
For further information, please Contact Sri Santhanam on 9867262734
Loving Sairam! 15 April 2020: the first 1,000 packs (food Kits) are ready and are being sent out for distribution. In all six Sai volunteers involved in packing.
-Anoop Saxena, SP – Mumbai Metro
Contents:
5 kgs Atta
3 kgs Rice,
1 kg Dal
1 kg Sugar
1 kg Salt
1 lit oil.
The distribution will be carried out through the local Corporator near Dharmakshetra and in Worli, Chembur, Andheri West, Mahim and Vashi through local contacts. As an organisation, the kits will be delivered/transported to each location and distribution will be handled by local bodies.
-Sri Sathya Sai Seva Organisation -Mumbai