Guru Poornima  Celebrations, Balvikas Children and Alumni of SSSSO Maharashtra
Aum Sri Sairam
On 25th July, as a part of Guru Poornima  Celebrations, Balvikas Children and Alumni of SSSSO Maharashtra offered "96 Bhajan Manjiri" at the Divine Lotus Feet of Our Beloved Bhagwan. Balvikas children from all the 25 Districts of Maharashtra  participated in this offering.
Photos are attached herewith

M S Diwakar
I T & Media Coordinator
SSSSO Mumbai Metro & Maharashtra
Pune District Ashadi Ekadashi Seva July 18~ 20,2021
AUM SRI SAI RAM

ASHADI EKADASHI SEVA ACTIVITY – BAHIRWADI JULY 18,2021

With Bhagawans blessings and guidance on Sunday July 18,2021 as part of the Ashadi Ekadashi Seva devotees and youth of Pune offered Seva at the divine lotus feet. All Devotees were waiting for an opportunity to come out of the confinement and comfort of their homes and to perform some Seva activity and offer it to our beloved Bhagawan.
Pune district took this opportunity and identified needy Narayan's in village Bahirwadi in Purandar Taluka about 60 Kms from Pune. This village was in news recently for being the first village in Maharashtra and probably in India to be 100 % vaccinated done by the administration. Despite of overwhelming response from all samithis we had to restrict the numbers and had about 80 Seva Dal Mahila and Gents majority of which were youth participate in the Seva. All Covid 19 norms were strictly adhered to and Seva was performed in a controlled manner. The core team had worked very hard in collecting the material a day in advance and transport it to the site a day in advance.

Activity was planned in the Following manner:
➢ Omkaram, Ganesh Prarthana, Sai Gayatri, Ganesha Bhajan
➢ Explanation and Do's and Don'ts of the activity
➢ Tree Plantation of 250 saplings – Mango Kesar, Lemon and Guava. Recipient family
members were accompanied by the Seva dal to their farms and some of the trees were
planted. Remaining trees were handed over to the
➢ Immunity Kit distribution for the Bachat Gat, Angan wadi, and Asha worker Mahilas
from nearby villages. Some of those who could not attend were given immunity kits the
following day at village Saswad.
➢ Ashadi Ekadashi Kirtan offered by 10 Warkaris from Alandi.
➢ Goody bags distribution containing Biscuits, Sweets and chocolates etc.
➢ Mangal Aarthi
➢ Narayan Seva for about 450 villagers and devotees.
Following are some of the photographs for reference. We pray to swami to guide us in serving
the community better and make a difference in their lives.
Tree Plantation-Pune
4th July 2021 marked an auspicious day for all devotees of Sri Sathya Sai Seva organization Pune.
A tree plantation drive was offered at the divine lotus feet of our Beloved Bhagawan. A lot of effort was put into identifying the beneficiary villages and recipients and the type of trees to be planted so as to benefit the livelihood of the families in the near future. The Seva was performed at Village Ambed, Kondgaon, and Chatra about 30 kms from Pune. A total of 1,215 trees were handed over to the recipients. a few hundred were also planted with the help of our sevadal.
Following is the breakup of saplings handed over /planted:
Kesar Mango – 675,
Peru/Guava – 270,
Limbu/Lemon- 270.
Total 1,215.
All necessary precautions were taken in view of the pandemic and Seva was completed safely. It was really heartening to see a good number of youth, seniors and devotees of all age groups from all Samithi's who participated with great enthusiasm. A few Sevadal from Kondgaon and Ranjane also joined the activity.
The program started with Chanting Omkaram and Sai Gayatri followed by 5 bhajans. A small talk was given explaining the procedure to be followed while handing over the saplings. An Agriculture expert was also invited to explain the care to be taken to nurture the plants. we are very happy to note that senior devotees from Camp Samithi were instrumental in making the resources available and offer them at the divine Lotus feet. A few photographs of the event are attached.
We are very thankful to Swami for giving us this opportunity and giving us the strength and blessings to complete this labour intense Seva activity Successfully.
The next activity is tentatively planned for July 18th, 2021, as part of the Ashadi Ekadashi Program as advised by SSSSO Maharashtra.
SAMASTHA LOKA SUKHINO BHAVANTU.
Covid Relief Seva Report – Sept 2020 to June 2021
VISION-2025
Sri Sathya Sai Balvikas Maharashtra State Level benediction program
ON 26th January 2021 Balvikas team of Sri Sathya Sai Seva Organisation Maharashtra conducted State Level benediction program of 38 children who successfully completed the Diploma program.
The program started with 3 omkars, Vedam chanting. This was followed by Bhagawan's padyam explaining the glory of our motherland. State President addressed the children alumni, BV Gurus. This was followed by the introduction of Balvikas excellence award winners from the state. Instrumental music by 3 Balvikas children enthralled all. 2 parents expressed their view on the positive impact of Balvikas in their children. One of the parents is now a trained Balvikas guru.
Pictorial display of activities performed by the B V children during lock down like 1000 children participating in online Swachhata quiz, Matru Pitru pooja, altar decoration by children in their respective houses, preparing gratitude cards and giving it to the frontline warriors Swachhata workers, shop keepers, vegetable vendors who worked selflessly during the lockdown, Best from waste, Tulsi and aloe Vera plantation, posters & drawing in Swachhata abhiyan etc.,
The highlight of the program was a song which was composed and set to music by an alumnus. The song was in 3 languages Hindi, Japanese & English. The song expressed the love of Swami for BV children with a promise to Swami that the alumni will be HIS messengers of love and peace. The program was concluded with Bhagawan's message, National Anthem & Aarti.
In Sai Seva Sadhana
S K Satpute, State President, Sri Sathya Sai Seva Organisation, MAHARASHTRA
National Winter Sun Project.
With Divine grace, SSSSO Maharashtra distributed 3129 blankets under National Winter Sun Project between 23rd November 2020 & 13th December 2020. Majority of these blankets were distributed during night time by following the guidelines and the beneficiaries were Narayanas sleeping near the Bus Stand , Railway Sation etc.,.
S K Satpute,SP,SSSSO, Maharashtra
Services during COVID-19 Crisis
03 May 2020
Sri Sathya Sai Organisation Pune – Meal boxes distributed in and around Pune City during COVID 19 Pandemic 2020 … Please watch the video
-Report by Deepak Bharwani
30 April 2020
Sri Sathya Sai Community Kitchen -Nagpur
Loving Sairam! With Bhagwan Sri Sathya Sai Baba's grace, Sri Sathya Sai Seva Samithi, Nagpur started community kitchen from 14. April 2020 along with our energetic youths. The food is being prepared at Sathya Sai Convent Narsala by abiding by all the instructions given by Govt of India.
The food team involves all youth members under the leadership of Kitchen Incharge Shri. Narendra Dhawale and Shri. Hari Nair. The youth Team is preparing food to start with 200 people on the first day to 500 people till date along with snacks & tea for 50 people. Food comprises of roti, sabji, rice and sometimes masala rice.
The distribution part is taken care by various location In-Charges appointed by local administration of Jaitala, Narsala and Hudkeshwar areas. We pray Swami to provide the strength to serve the society at this crucial movement and let everyone recover from this situation as early as possible.

In Sai Service

B.S. Chaudhary,
District President,
Nagpur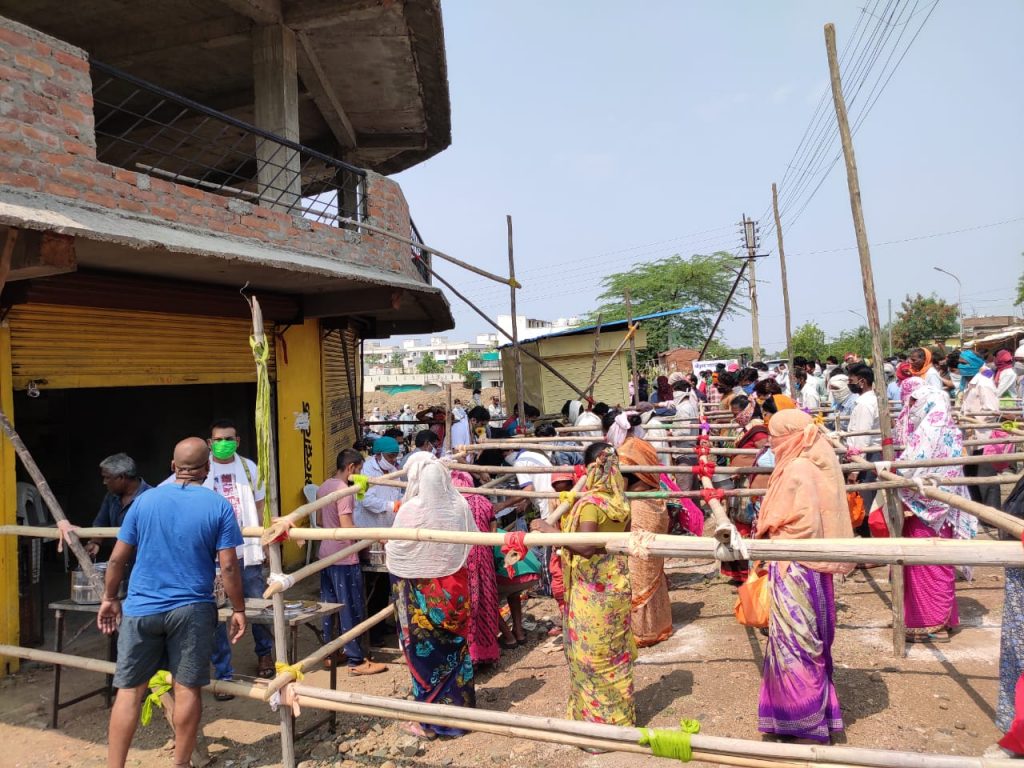 27 April 2020
Sri Sathya Sai Community Kitchens at Pune
With the immense grace of Our beloved Bhagawan Sri Sathya Sai Baba Sri Sathya Sai Seva Organisation, Pune has started "Sri Sathya Sai Community Kitchens" in Pune.
As on 27 April three (3), Community Kitchens have been functioning in Pune district.
1) Pisoli, Katraj- Kondhwa Road, Pune. 2) Dhayari, Sinhgad Road, Pune. 3) PCMC Pune
Daily 1500-2000 (approx) food packets are being served to the needy Narayana's.
Veg.Pulao/Rice item, Roti, Sabji and Bananas are the common items served across the kitchens. These Kitchens are taking utmost care of hygiene and social distancing.
Sri Sathya Sai Community Kitchen Nagpur
Aum Sri Sai Ram
Sri Sathya Sai Community Kitchen Nagpur. Around 550 packets distributed for local needy people, migrant labourers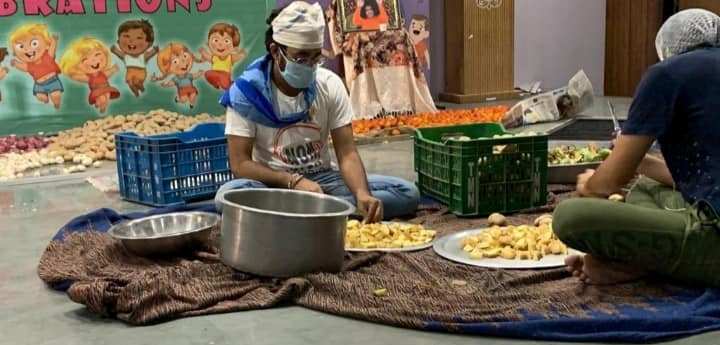 Sri Sathya Sai Community Kitchen at Pune
Loving Sairam,
By the grace of Bhagwan Sri Sathya Sai Baba, Sri Sathya Sai Seva Organisation Pune has started the Community Kitchen on Thursday 16th April 2020.
It was inaugurated in the presence of Haveli taluka Tahsildar Shri Sunil Malisaheb, Hadapsar Mandal officer Shri. Venkatesh, Talathi of Pisoli Shri.Shivaji Deshmukh, Sarpanch of Pisoli Shri Macchindra Dagde and all Sai devotees on 16-4-2020.
Around 350 food packets were prepared and distributed on Thursday 16th April 2020.
Around 600 to 650 packets which include masala bhaat, 2 chapatis, bhaji & 2 bananas will be distributed to the needy people by SSSSO Pune on Friday, 17th April 2020.
Sri Sathya Sai Young Messengers Workshop-Maharashtra
Re-Energizing the core Date-8th and 9th February 2020.
A two-day workshop to re-energize the core youth from all districts of Maharashtra was held on the 8th and 9th of February,2020, at the abode of Saint Shree Tukaram Maharaj in the Premises of Gatha Mandir Dehu, Pune, Maharashtra.
This was attended by around 140 selected youth from different districts of Maharashtra. A team of 16 trained energetic Sai Youth conducted the program on Practical Spirituality, conveying the importance and guiding the youth on all different aspects, to help each one to become the best messenger of Swami, right from ways of maintaining good health, building a warm personality, keeping away from bad company, maintaining an emotional balance, dealing with anger, fear and other shadripus as guided by Swami.
Also revising the importance of spreading love through selfless Seva, being happy always, self-evaluation and applying human values in our day to day life. Activities such as ice breaker games, Song expressing love towards Swami, solving of worksheets concerned with the topics spoken on, skits on human values, early morning exercises and musical meditation after Omkar Suprabhatam were some of the supporting activities to involve all and re-energise them for Swami's mission.
Shree Neeraj Acharya an Alumnus, who has also served in the central trust for a long duration, was invited to motivate and share his experiences on his life with Swami. This program was organised by the Mahila and Gents Youth Coordinator's of Maharashtra
SP-Maharashtra Shri S.K. Satpute.
Contact Person: Sri Shri S.K. Satpute, State President, Sri Sathya Sai Seva Organisation, Maharashtra, sp.mh@ssssoindia.org
Feedback & Helpline: admin@ssssoindia.org